Roasted Cauliflower + Green Tahini Dressing
Simple. Healthy. Versatile. Delicious!
You can use this technique to dress up your cauliflower with whatever fixins you like, but we just love it with this zesty Green Tahini Dressing. Try out this easy weeknight dish and let us know what you think!
For the Cauliflower:
1. Bring a pot of measured water to boil
2. Add lemon, wine, red pepper, olive oil + salt
3. Lower the cauliflower into the boiling water and allow to boil for 15 minutes until easily pierced with a fork
3. Transfer cauliflower to cast iron pan (or any pan you have) into a 400° oven for 30 mins, or until browned.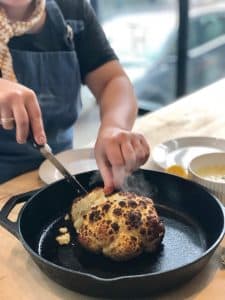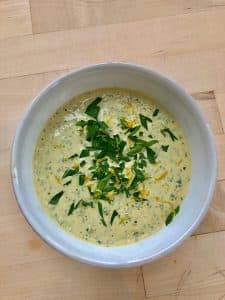 For the Green Tahini Dressing:
1. Rough chop the pepper + shallot
2. Add the pepper, shallot, garlic, tahini + herbs into a food processor and pulse until ingredients look diced.
3. While pulsing, drizzle olive oil until it starts to come together as a sauce.
4. Slowly drizzle the ice water (this will add a creamy texture) 5. Cut the cauliflower into slices and slather that sauce on top (or if you aren't a complete savage, you can dip) Enjoy!
Ingredients
Red Pepper Flakes
To Taste
Fresno or Other Mild Pepper
1 Whole
Olive Oil
Drizzle to Preferred Consistency