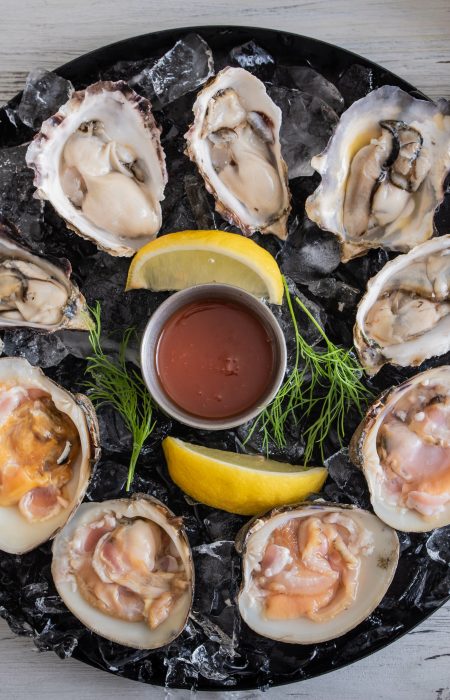 Outdoor Dining Event
SEAFOOD DINNER (OUTDOOR SEATING) – JUNE 30TH
Hudson Table Hoboken
Date:

Tuesday, June 30, 2020 - 7:00 PM - 9:00 PM

Featured Chef:

Gene Monaco and Kelly Zavala
Overview:
This meal is perfect for sharing with friends/family and will be served on our outdoor patio. Table selection will be first-come, first-served, and don't forget...BYO!
Prices are

per person

unless otherwise stated.
SEATING AND OTHER CONSIDERATIONS:
Please note that you will need register as

one group

if you would like to be seated together.
If your party is larger than 4 guests, please email [email protected]table.com to ensure we can accommodate you.
SEATING FOR CHILDREN: A child who requires a seat will be fully charged as an adult. A child who do not require a seat (i.e. can remain in their stroller, etc.) will be admitted free of charge.
RESTROOM USAGE: Guests who would like to use the restroom inside MUST HAVE FACE COVERINGS or entrance will not be permitted. There can be no exceptions to this policy.
Please reach out in advance regarding dietary restrictions.
WEATHER POLICY:
At this time, should inclement weather result in the event being canceled, we will be packaging all food to go and also providing a 20% credit (non-expiring) in the form of a gift voucher to any future event. We, as a small local business, have been hit extremely hard by the recent circumstances. All ingredients are purchased for specific events and staff will be paid in full before the event. Please also note that events will not be canceled due to light rain/weather conditions, as will have umbrellas in place.
Menu:
Iced Cocktail- Local Oysters & Clams, Barnegat Light Scallop Crudo- hT Sauces
Grilled Bread w/ Nori Butter
Fritto Misto- Calamari, Summer Beans, Cherry Peppers, Anchovy Aioli
Linguine w/ Blue Crab, Basil, Lemon, Hot Chiles
Orange-Olive Oil Cake- Summer Berries, Whipped Mascarpone
Share this
Link copied to clipboard